By Rory Smith
Erling Haaland was just starting to sprint when he remembered his manners. He was about to race off to celebrate yet another goal with Manchester City's fans when he stopped, turned on his heel, and bounded over to Kevin De Bruyne instead, grabbing him by the forearm, roaring wordlessly in his face.
In the ecstasy of the moment, it was not entirely clear what Haaland wanted his teammate to do. De Bruyne, certainly, seemed a little confused. Was Haaland merely thanking him for the assist on his goal? Was he inviting him to join in the celebrations? For a breath, both players stood at an impasse, wondering what to do next. And then Haaland took off again, hurtling toward the traveling supporters at full speed, his arms flailing in the air.
By this stage, it is a wonder Haaland, the Norwegian striker, elicits any excitement from scoring. His latest goal gave him 26 in only 22 games in the Premier League since joining Manchester City last summer. He is on 32 in all competitions. Haaland does not so much harvest goals as factory farm them. He knew, though, that Wednesday's was not just another goal. This one was different.
Not just because it sealed City's 3-1 win against Arsenal, or even because it confirmed Pep Guardiola's team would leapfrog its opponent at the summit of the Premier League. Its significance was more deep-rooted than that. That goal, this victory, effected a profound shift in the psychology of the title race. It had the air of the hinge on which the season turned.
Manchester City players celebrate after Manchester City's Kevin De Bruyne scored his side's opening goal during the English Premier League soccer match between Arsenal and Manchester City at the Emirates stadium in London, England, Wednesday, Feb.15, 2023. (AP Photo/Kin Cheung)
Guardiola, of course, had stressed this week that February is far too early for a single game to be conclusive, no matter how apocalyptic the tone of the prematch hype. The campaign is only narrowly past its halfway point. There are, as he said, so many games remaining. And besides, the arithmetic is skewed. Arsenal has a game in hand. Nothing, he was very clear, has been decided yet.
Judging by the tableau of reactions to Haaland's goal, that message had not quite made it through to City's players. As Haaland tore away from De Bruyne, Ilkay Gundogan was in the corner, punching the air; Rúben Días was locked in a tight, tender clinch with his coach, Guardiola cradling the defender's face in his hands; Riyad Mahrez and Jack Grealish, both recently substituted, were racing back onto the field; and City's coaching staff was howling into the night sky.
Advertisement
It is only 10 days or so since Arsenal's lead over City seemed if not insurmountable then certainly commanding. Mikel Arteta's Arsenal team had beaten Tottenham in enemy territory, and had swatted aside Manchester United at home. Its lead over City had stretched to 8 points. Arsenal's youthful exuberance was slowly crystallizing into an imperious momentum; at some point, it had gone from being a club that hoped and become one that believed.
Suggesting that tenor has been extinguished over the course of the last two weeks would be a stretch, but it is hard to deny that Arsenal has sputtered. First Everton, its loins girded by a new manager, Sean Dyche, shut out the league leader at Goodison Park. Then Brentford, the Premier League's specialist giant slayer, left the Emirates Stadium with a draw that was simultaneously fortuitous and largely merited.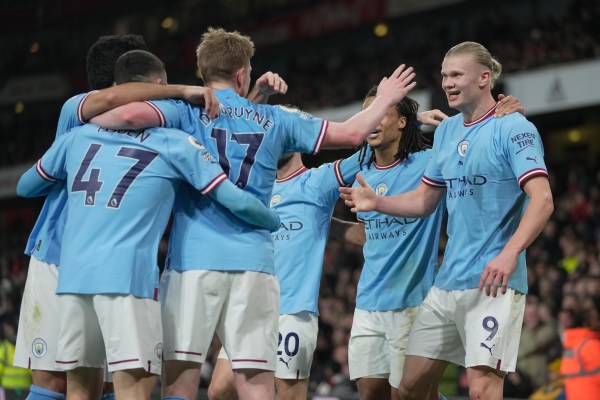 Manchester City players celebrate after Manchester City's Erling Haaland, right, scored his side's third goal during the English Premier League soccer match between Arsenal and Manchester City at the Emirates stadium in London, England, Wednesday, Feb.15, 2023. (AP Photo/Kin Cheung)
Suddenly, the daylight Arsenal had so painstakingly claimed at the top of the table had disappeared. City was right there, its breath hot on the necks of Arteta's players. This game became less an examination of the comparative merits of two title contenders and more of a test of Arsenal's mettle.
Advertisement
The fact of defeat — to an opponent that has won four of the last five Premier League titles (for now, at least) — will sting rather less than the manner of it.
Arsenal was hurried, rather than urgent, frantic, rather than intense. It looked, in other words, like exactly what it is: a work in progress, a young team on a steep trajectory but one that is yet to reach its apex. City's first two goals, scored by De Bruyne and Grealish, came from avoidable errors, rushed decisions, poor choices. That happens to teams as they grow, of course. It was just not a great time for Arsenal to have a learning experience.
City, by contrast, has honed its ruthlessness over the course of five seasons. On Wednesday, Guardiola's team might not have played with its habitual control, the poise and the certainty that has become its hallmark; there was, instead, a frenzy to its performance, too, a fury that the club ordinarily reserves for any governing body that questions the legitimacy of its financial results.
The temptation is to draw a direct link between the team's performance and the 115 allegations of rule-breaking made by the Premier League last week, to suggest that Guardiola has successfully used those charges to convince his players — whom he had accused, not so long ago, of being rather too happy to rest on their laurels — that they have a cause to fight for, an injustice to set right.
Perhaps that is true. Perhaps City's squad has bought into the club's conviction that it is on some rebel crusade, persecuted by the vested interests intent on doing it down. It is entirely possible that the players have been jolted out of whatever torpor Guardiola had detected by the seriousness of the allegations.
Advertisement Top Sports News Now
'The name of the game is intimidation': Hungry Gukesh takes on resurgent Magnus Carlsen
Vidit wins 4-2 against Nepomniachtchi to complete Indian quartet in FIDE WC quarters
Neymar joins exodus from Europe for 'greener' pastures in Saudi Arabia
Click here for more
Far more likely is that City's players realized this was their chance. Manchester City has not been taking Arsenal lightly: that much was obvious when Ederson, the goalkeeper, was booked for time-wasting after barely half an hour, and when the team's captain, Gundogan, was twice asked to calm his teammates down by the referee, Anthony Taylor.
Also Read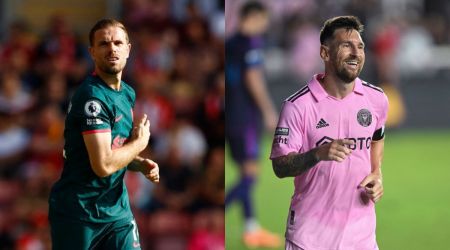 'Can't understand why coming here would damage Henderson's legacy and Mes...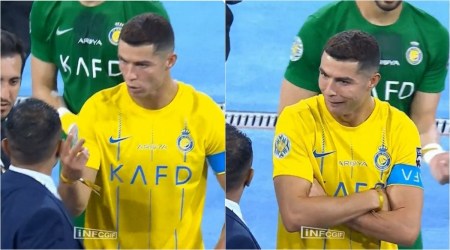 Watch: Cristiano Ronaldo looks bemused after being snubbed for player of ...
Jose Mourinho substitutes Roma player, forces his own team to play with 1...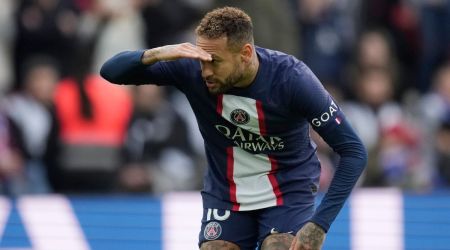 Neymar set for Saudi move after Al Hilal agree near-USD100M transfer fee ...
The difference, more than anything, was that City could channel that desperation, that hunger. That it could sense weakness and exploit it when Arsenal could not do the same. It does not mean anything is over, that Arsenal's race is run. But for the first time in months, it feels like City has the edge, and that is often all it needs.
This article originally appeared in The New York Times.